Permit Season Opens
Florida Pompano:
Trachinotus carolinus
African Pompano: Alectis ciliaris

Permit: Trachinotus falcatus
Regulations (state and federal waters unless noted)
Slot Limit: Not less than 11″ or more than 22″ fork length; may possess 1 over 22″ included in the per person bag limit
Daily Bag Limit: 2 per harvester
Vessel Limit: No more than 2 over 22″ per vessel
Season: Open year-round
Gear:
State waters: Hook and line only.
Federal waters: Hook and line and spearing.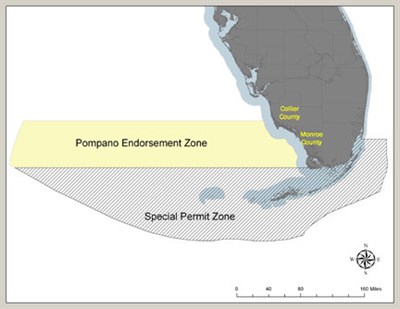 Special Permit Zone (SPZ)
(South of Cape Florida and Cape Sable)
The Special Permit Zone includes state and federal waters south of Cape Florida in the Atlantic and south of Cape Sable in the Gulf.
The Pompano Endorsement Zone (PEZ) pictured on the map above is a zone created that allows commercial fishermen who hold a pompano endorsement (PE) to use gill nets legally for pompano in federal waters off Florida.